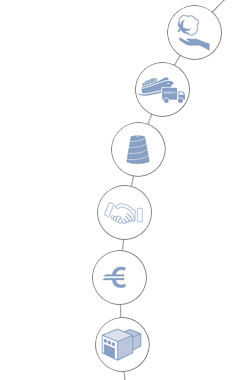 Cultivation, Harvest and Production
Our selection of supppliers is adapted to the profile of our customers.
Logistics
Our logistics specialists and partners ensure smooth transport, as well as the complete handling of customs and import clearing.
Consultation and Production
We offer professional advice regarding suitable application of the different yarns.
Credit and Liquidity
We faciliate the necessary disposition and financial scope, aiming for a trustful, long term business relationship.
Storage
Our warehousing system, designed for just-in-time deliveries, offers you substantial flexibility.