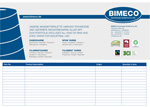 Our competence – your benefit
Extensive product and market competence
We consult our customers in purchasing suitable and appropriately priced yarns. We are constantly observing and travelling to supplier markets all over the world, in order to negotiate with the most productive and competitive yarn producers. Here we limit our business to a carefully selected group of regular suppliers continuously and reliably delivering high quality yarns.
Reliability and flexibility
We also honour our agreements during times of rapidly increasing prices. Our large trade volume and warehouse stocks enable us to flexibly respond to individual customer wishes – whether they are changes in the dispatching or deliveries at short notice.
All-round service
We take care of all customs and import procedures for our customers. The delivery of goods, even just in time, is completed by experienced logistics service providers.
We coordinate the dispatching and financing scopes of producers with those of our customers and also enable advance financing.
Outsourcing of the labour-intensive and costly supplier selection
Quality and reliable delivery
Fast and flexible dispatching
Simplified financing and reduced liquidity demands
Smooth running of supply chain management